Flowers banned in some hospitals and more are following.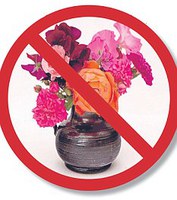 Hospitals across Australia are slowly banning flowers only because they pose a health risk to patients.
Hospital officials claim that harmful bacteria can grow in the water and spreads germs among patients if knocked over.
They feel that fruit hampers and fruit baskets are a better option than sending flowers to the hospital. We of course have to agree, and the patient receives the added benefit of nutrients found in the fruit.
More hospitals are now making their wards a "flower free zone"
Officials have said that other gifts such as fruit is still welcome at the hospital.
So if you are looking for a gift for somebody in hospital to wish them congratulations or get well, send the gift of a fruit basket or fruit hamper.